A Premium Cigar Sports Lounge, Tap House & Wine Bar
The best-kept secret in the Inland Northwest!
There's no need to be miserable smoking a cigar outside; come relax and enjoy yourself at our Cigar Lounge, your home away from home. 
We pride ourselves in taking care of our customers! We offer comfortable climate-controlled seating, a well-stocked walk-in humidor full of premium cigars, over 150 carefully selected wines, and 12 rotating
Micro Brews on tap to give our customers a variety of the old favorites to the newest sensation in Micro's on the market available today also offering pints or pitchers.  All this with a simple but savory food menu selected to pair well with whatever you choose.  Check back with us regularly as we have Cigar Events often with big specials and prizes, along with our now annual Big Ash, the Inland Empire's Premier Cigar, Micro Brew & Spirits Event every August!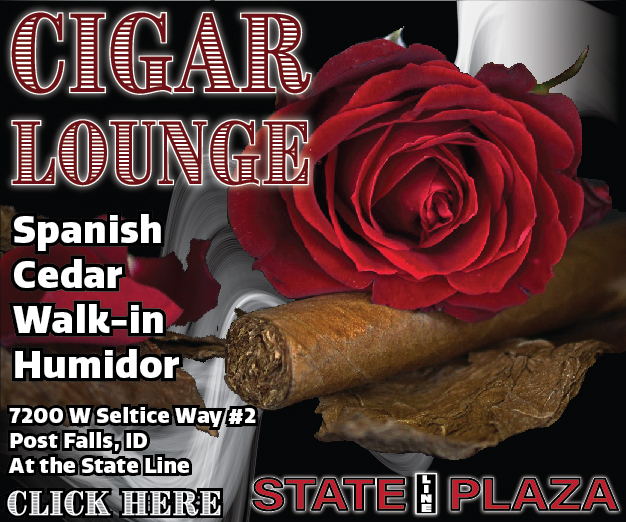 Where Good Friends Gather!



Weekly Specials
Every Wednesday
Pizza by the Slice Night!
A Bigger Slice Only $2 or 1/2 a Pizza Only $6
Drink Special – $1 off Draft  Beer & Glasses of Wine!
*The Cigar Lounge Side-Cigar Social Night
Enjoy 15% off all Cigar Purchases!
Every Thursday
Steak N Chicken Bake Night!
Fresh 8 oz  Top Sirloin Steak or Chicken Breast Grilled to Perfection, Homemade Cesar Salad & Bake Potato for Only $11.99, 6-9 pm
Drink Special- $2 less Thursday's, All Spirits in a Can are $2 less!
Every Friday
Taco Friday's!
$2.50 Each a Bigger Soft or Hard Shell Taco 5:30-8:30 pm
Drink Special- A Pint & 5 Free!
Any 5oz Draft Beer Free with a Pint Purchase from our 12 Rotating Taps
Every Saturday
Beer Flight Special! 4 – 5oz Beers of your choice from our 12 Rotating Taps, Only $5 (reg. $9)
Saturday & Sunday
Supreme Bloody Mary's
A Meal in a Drink!
Start your Weekends Right, Only $5 (reg. $7.00) 3-7pm
Pipes
A1 Smoke shop carries a wide selection of tobacco pipes, from corn cob to custom, we have a pipe you will love. We focus on value and stock the best pipes we can from $20 to $200. We currently carry pipes from: Brigham, Lorenzetti, Capri, Rocky Patel/Nording, and don't forget the one of a kind pipes from Jim Ratliff of American Heritage custom pipes.
Pipe Tobacco
Nothing is more nostalgic than the faint whiff of Borkum Riff, it instantly takes me back to summers spent on my grandparent's farm. Most of my summer breaks would be spent helping my grandpa with the hogs while he smoked his corncob pipe. After many conversations with multiple customers, nostalgia is always a theme. Those same customers, years later, picked up a pipe and were transported to times past and loved ones with his or her choice of pipe tobacco. Now a days, there are countless varieties of pipe tobacco; and while we could never carry them all, we strive to "cover the bases" and carry something you will surely love…..fond memories not necessarily included…..
Cigars
A premium cigar is more than just tobacco; It is a representation of generations of knowledge and expertise collaborating to create a smokable work of art. Cigars force the smoker to take the time to slow down and just be. With the largest selection of premium cigars in the Inland Northwest, our walk-in humidor is always well stocked: from yard 'gars to special occasion sticks, and big brands to boutiques, A1 Smoke shop has you covered. If you're not sure what to smoke, ask to speak to Nick our tobacconist, and he will help you choose cigars you're sure to enjoy.
Cigar Accessories
Focusing on accessories that won't break the bank, we have everything you need to properly care for your cigars, including cutters, lighters, travel humidors, and humidification. Let us know if you're looking for something not in stock and we will do what we can to get it for you.
Cigar Brands
1502 Cigars
601
ACID
Alec Bradley
AJ Fernandez
Arturo Fuente
Asylum
Balmoral
Black Label Trading Co.
Blk Wks Studio
CAO
Caldwell
Camacho
Casa Fernandez – Aganorsa
CLE
Crowned Heads
Drew Estate
Dunbarton Tobacco and Trust
Eiroa cigars
Ernesto Perez-Carillo (EPC cigars)
Espinosa
Foundation
Illusione
JM's
Joya De Nicaragua
Kristoff
L'atelier
La Aurora
La Barba
La Galera
La Palina
La Gloria Cubana
Liga Privada
Montecristo
Macanudo
New Cuba
Oliva
PDR
Perdomo
Pier 28
Punch
Rocky Patel
RomaCraft
Room 101
Sinistro
Tatiana
Tatuaje
Warped
UPCOMING EVENTS YOU DO NOT WANT TO MISS!
Located Upstairs at A1 Smoke Shop

Cigar Lounge Hours
Wednesday – Friday 4:00pm to 10:30pm
Saturday 1:00pm to 10:30pm
Sunday 1:00pm to 9:00pm